One of the questions I often ask my clients is: how often do you wash your hair? The answers are very varied. Most women are meticulous about how often they wash their hair, and sometimes their routine is a science. But what about your shampoo? How much effort do you put into finding a suitable shampoo for your hair?
The choices of shampoos are endless! Moreover, they act on your hair for only a few minutes. How important can this be? Today, we're addressing the five categories of shampoos available and when to use them.
Medical shampoo
Medical shampoos are designed to treat scalp problems such as seborrheic dermatitis or psoriasis. We call them medicinal because they contain special ingredients that are effective in treating scalp disorders. Some medical shampoos require a prescription from your doctor. The medicinal ingredients in these shampoos affect the color of colored hair. Not only do they treat the scalp problem, but they also remove too much of the hair's natural protective oil. It's a bit like replacing one problem with another.
If possible, avoid these shampoos and check out this blog post: "How to treat your dandruff?" , for helpful tips on natural dandruff treatment.
Aesthetic shampoos
Cosmetic shampoos are made with milder surfactants that have little or no stripping effect on natural hair oils. These are mild shampoos used to treat split ends, damaged cuticles and increase hair elasticity. If you find any of the following terms confusing, check out our blog: Hair Vocabulary , where I share a list of important hair vocabulary.
Many cosmetic shampoos contain conditioners and moisturizers to make hair more manageable. These shampoos are so mild that they have very little cleansing action. It's a good option for your usual shampoo routine if you like to clean your hair several times a week. If you use heavy-duty styling products and gels, these shampoos might be too mild to clean your hair. Be sure to use a detoxifying shampoo once a month to remove any product buildup and unclog pores on your scalp.
Herbal or organic shampoos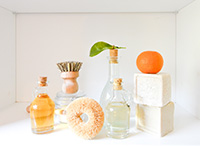 Plant-based shampoos do not contain detergents or surfactants, but contain castile soap. These natural shampoos are created by mixing a variety of herbal infusions with soaps. There are a plethora of natural ingredients that can be added to organic shampoos to improve color, stimulate growth, reduce hair thinning, and combat dandruff issues.
These solutions offer an excellent alternative to commercial shampoos that use synthetic reproductions of the natural extract. Hair and body react better to the real substance than to the synthetic version. Herbal and organic products do not mask the problem like many commercial products do. They improve the ability of hair and scalp to heal. You must keep in mind that with natural products, there is no miracle solution. You will notice an improvement in your hair over time. Herbal hair products are more expensive.
Dry shampoos
A popular way to cleanse the scalp without water is to use a dry shampoo. Dry shampoo is a powder usually made from corn or rice starch. Its main purpose is to remove excess sebum from the scalp. Many of these products contain botanical ingredients that cleanse the scalp while invigorating and nourishing it. Dry shampoos won't replace traditional shampoos, but they will help keep your scalp clean between washes and allow you to wash your hair less frequently. Women are often hesitant to use dry shampoos for fear of applying them incorrectly. Here are some tips for using your dry shampoo correctly:
Part your hair where you want to apply the shampoo.
Keep the shampoo several inches from your head.
Spray your roots in a steady motion.
It is possible to hold your head upside down while applying.
Let the product sit for a few minutes.
Massage in with fingertips as you would wet shampoo in the shower.
Raise your head and gently smooth your hair with a brush or comb, from root to tip.
Finish by lightly running your fingers one last time.
Avoid handling your hair for the rest of the day.
Conditioner (co-wash)
My last category of shampoo is actually a conditioner. A technique that has become very popular over the past five years is called co-washing. Co-washing is the act of washing your hair with conditioner without applying shampoo first. It is a preferred solution for women who find that their hair is dry and brittle.
Especially if they wash with a variety of shampoos more than once a week. It's important to note that co-washing adds moisture, conditions, and preserves your hair's natural sebum, but doesn't actually clean it. If you choose co-washing as your preferred "shampoo", you need to clarify your hair more often to avoid product residue buildup. In order to properly co-wash your hair:
Rinse your hair with lukewarm water for about 3 minutes.
Massage your scalp with your fingers to loosen residue.
Add conditioner and wash as you would shampoo.
Leave the conditioner in your hair for 5 minutes.
Rinse out the conditioner.
Not all shampoos are created equal. Keep this in mind when shopping for your next shampoo and feel free to experiment and use this blog post to help you assess your needs before choosing your next hair wash product.
Comment below and let us know what your favorite shampoo is and why?