We have all been there natural beauties! Endorphins in action post-workout, a million dollar sensation and then BOOM: one look at our hair and the panic starts to skyrocket! If you're like me, coming home to look good after the gym is rarely an option. We're busy ladies on the go and we have to leave that half-decent gym locker room! So how do you find a nice balance between fitness and hair routine? Here are some tips to help you see things more clearly.
Pre-workout
Failing to plan is planning to fail Ladies! Before heading to the gym, you should have a good idea of ​​what you'll be doing next. If you have to attend a big event right after sports, opt for a light workout like Pilates or a light weight training to avoid excessive sweating. Do more intense cardiovascular exercise on days when you have more time for yourself. If you've already scheduled a hair wash, even better. Some hairstyles like tight little buns, chignons or French braids will allow your hair to create a wavy effect when you exercise. It's a fun way to pre-style your hair and have a hairstyle you'll be comfortable with post-workout. Comb a light conditioning cream through your hair before training to get extra hydration while you burn calories.
If you use dry shampoos, be sure to apply it before your workout to help absorb sweat. Applying dry shampoo to damp hair after a workout will leave a muddy residue in your hair.
During your workout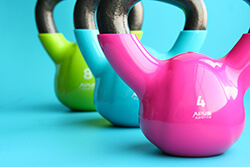 During your workout, avoid rubbing the perimeter of your hair with your towel. The rough fibers of the towel damage this delicate part of our hair. Instead, pat the sweat dry and never rub. Using a headband, scarf, or bandana can be a chic way to soak up sweat from your head. If you train indoors, position yourself near a fan or air conditioning outlet to keep sweating to a minimum. If you train outdoors, a baseball cap and a ponytail is a quick win. For shorter hair, secure your hair with a few bobby pins. The important thing is to keep your hair as dry as possible and to minimize sweating.
Post workout
This is where the fun begins. My suggestion is to keep it simple. Gym locker rooms are rarely equipped with the best styling tools, so save the elaborate styles for days when you're at home. If you train a lot and feel like you can't do without shampoo, rinse your hair with clean water in the shower to wick away the sweat. No more than two hair washes per week, even if you train more often than that. Over-shampooing will leave your hair dry and greasy at the roots. If you've been exercising with your hair in a bun or braids and it looks too messy to pull out, take the style off and blow dry your roots with the cold air. When your roots are dry, you can opt for a dry shampoo to add texture or have your hair slicked back into a high ponytail with a bit of gel. If your hair has an unpleasant odor, block the odor by misting your hair with rose water or applying a light oil to the ends ( Neptüne Moisturizing Oil is a great option for this) and tie your hair up in a bun .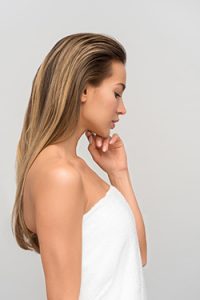 The best solutions go through balance. I hope you can use some of these suggestions to keep your hair and your gym routine in sync. How often do you exercise? Comment below and let us know! Do you like swimming to stay in shape? If so, check out our article: Protect your hair from chlorine while swimming and read our suggestions for hair in good condition during a day at the pool.