IN THIS ARTICLE
The benefits of scalp massage
Useful oils for scalp massage
How to massage your scalp properly
Natural shampoos to take care of your hair and scalp
This guide, written by the hair care experts at Crüe Cosmetics, aims to give you tips on the benefits of a scalp massage. You will also find a practical guide to giving yourself a scalp massage correctly.
THE BENEFITS OF SCALP MASSAGE
A healthy scalp and beautiful, healthy hair require an adequate care routine as well as the right nutrition. If you want to look into a diet that is conducive to healthy hair, I invite you to check out our blog post about it here: What to Eat for Optimal Hair Growth - A Complete Hair Diet .
Massaging the scalp and hair with warm oil infused with beneficial hair herbs is a great way to nourish the scalp. It also helps relax the mind and nervous system, promotes restful sleep, and can also aid memory.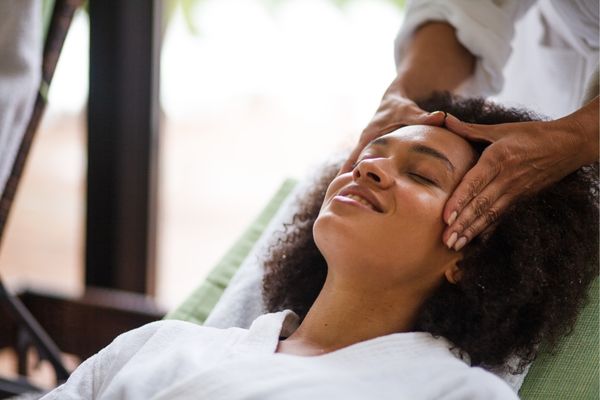 A scalp massage, performed at least once a week, has the following advantages:
Helps improve blood circulation in the head and neck area. When the scalp is "tense" from stress, circulation and hair growth are impeded.
Helps strengthen hair roots and nourish hair shafts, which promotes new hair growth and strengthens existing hair.
The massage relaxes the scalp and the neck muscles.
Conditions the scalp, helping to prevent flaking and a dry, itchy scalp.
USEFUL OILS FOR SCALP MASSAGE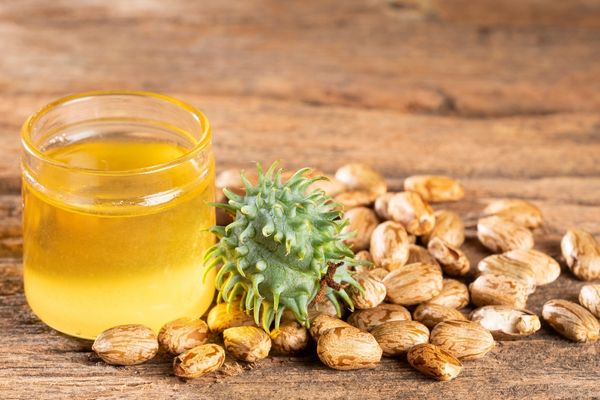 Carrier oils can be extremely useful for hair care, as they influence the sebaceous glands and can normalize their functions. So if you have oily hair, avoiding the use of oils may seem logical, but it's not necessarily the best approach.
The oils penetrate deep into the hair shaft and follicle and help produce healthy, shiny hair. They also encourage the growth of new hair. Castor, jojoba, sweet almond, and grapeseed oils are excellent base oils for scalp massage.
Castor oil is viscous at room temperature and liquefies on heating. This oil has antibacterial and antifungal properties, and is wonderful for dry scalp and hair. It has many anti-inflammatory properties, including high levels of omega 6 and 9 and vitamin E. It is rich in ricinolenic acid, which is a nourishing and moisturizing fatty acid. Crüe Cosmetics L'Ör Scalp Strengthening Serum is an ultra-stimulating product that pairs with a scalp massage to aid hair growth and increase hair volume.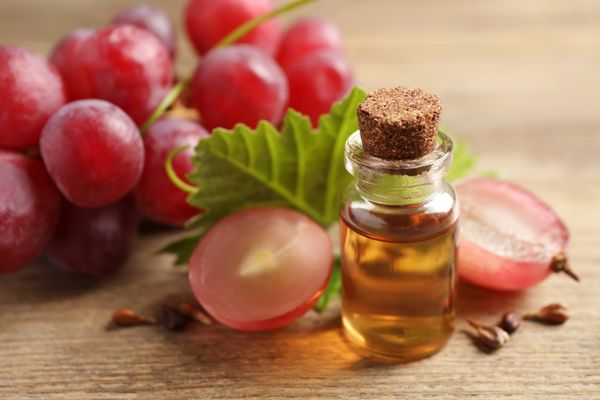 Jojoba oil is not really an oil, but a non-greasy liquid wax. It is very penetrating and helps dissolve sebum to unclog pores and provide a healthier environment for your scalp. You will find it in the Angëlia hair mask which we encourage you to use once a week to have soft hair from root to tip.
Sweet almond oil helps strengthen hair and regular massage with it promotes hair growth. Gaïa Rinse Oil is made with sweet almond oil and it will leave you with ultra shiny hair full of body.
Grape seed oil is beneficial for all hair types and is an excellent choice for improving blood flow to the scalp and stimulating hair growth. It remains a good option for those with fine hair. When it comes to hair, grapeseed oil is a great choice because it contains vitamin E, flavonoids, and linoleic acid, all of which are necessary for hair growth and vitality.
When passed through the hair, grapeseed oil can help tame frizz, or you can apply it to the ends to combat split ends.
To explore other nourishing hair oils, read the following article: 5 Exotic Oils to Beautify Your Hair .
HOW TO MASSAGE YOUR SCALP AND HAIR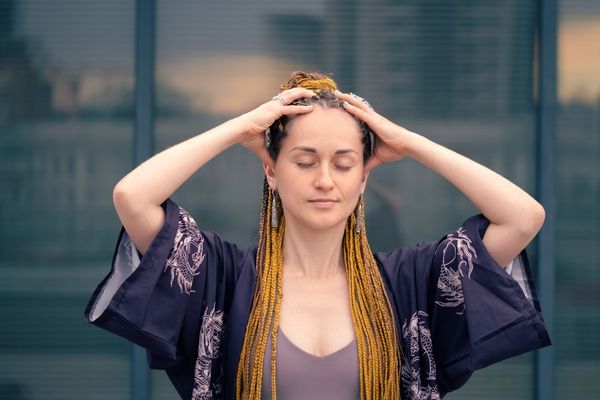 Pour oil into a bowl and warm it up by placing the bowl in hot water (a bain-marie). Never heat your oils in the microwave. The oil should be warm, but pleasant to the touch. You can also warm some oil by rubbing your hands together.
With fingertips, work the oil into the scalp using circular motions. Never rub your scalp and make sure you don't use your fingernails.
Apply the oil little by little to different parts of your scalp, parting your hair.
Cover your entire scalp, working down the sides to the ears and back to the neck.
With the balls of your fingers, apply pressure to your scalp and work in circular motions. Slow, deliberate movements are relaxing, while faster movements promote energy and circulation.
Leave the oil on for a minimum of 60 minutes, or even longer if you can.
After the massage, soak a towel in warm water, wring it out and wrap it around your head to condition and soften your hair.
You can even leave the oil on overnight - place a thick towel over your pillow to protect your bedding.
Wash your hair with a mild, natural shampoo
NATURAL SHAMPOOS TO CARE FOR YOUR HAIR AND SCALP
Natural shampoos are plant-based, formulated without harsh chemicals and additives. Most natural shampoos are sulfate-free, paraben-free, silicone-free, and use natural compounds and essential oils to add fragrance. Many regular shampoos and conditioners contain other harsh ingredients such as silicones, dyes and preservatives like parabens. It goes without saying that these ingredients are not harmless and you should avoid them in cosmetics as a precaution, even if you don't have any health problems or symptoms. Conversely, natural shampoos are generally sulfate-free, which helps maintain a healthy scalp while removing impurities and products that build up on hair follicles.
Freÿa Shampoo is a gentle shampoo and does not contain sulphates, parabens or harsh chemicals that could cause irritation. In addition it contains active ingredients such as maca root and Niacin which stimulate hair growth.
HAIR CONSULTATION
Do you have a question about natural scalp and hair care?
Do you have a question about our natural hair care products for beautiful, healthy hair?
Don't forget that with every purchase of Crüe products, you are entitled to a 15-minute hair consultation with a certified trichologist!